Faced with diversified Robotic products, Atlantik introduces Thundercomms' platform of System on Modules that have high speed computation capability, high reliability, and low-power characteristic.
To meet a Robot OEM's demand for sensors integration, high processing capability, an HMI interface and software application integration, Thundercomm developed the TurboX™ System on Modules for Robots. These SoMs will target middle and low-end markets and include core and IO boards, based on Qualcomm® Snapdragon™ chipset, with diverse extensible interfaces and control units.
A stable, built-in Android OS that is optimized for Robotic products can help the Robot OEM quickly launch their products
The Robotics platform supports the development of smart, power-efficient and cost-effective robots by combining high-performance heterogeneous computing, Qualcomm® Artificial Intelligence (AI) Engine for on-device machine learning, computer vision, vault-like security, multimedia and Wi-Fi and cellular connectivity (4G/LTE and CBRS). Comprised of a comprehensive set of software & hardware, including the industry's best performing 6-Axis Motion Sensor, Top Port PDM Microphone, and Barometric Pressure Sensor.
The Robotics platform is designed to help manufacturers and developers create robotic products ranging from large industrial and enterprise robots to small battery-operated one's with challenging power and thermal dissipation requirements.
It is based on the SDA845 Snapdragon processor, a heterogeneous computing architecture that integrates an Octa Core Qualcomm® Kryo™ CPU with performance up to 2.8GHz a Qualcomm® Adreno™ 630 Visual Processing Subsystem (including GPU, VPU and DPU), a Qualcomm ® Hexagon™ 685 DSP with Hexagon Vector Extensions (HVX) delivering sophisticated, on-device AI processing and mobile-optimized computer vision (CV) capabilities for perception, navigation and manipulation.
It supports Linux and Robotics Operating System (ROS), while also including support for the Qualcomm® Neural Processing software development kit (SDK) for advanced on-device AI, the Qualcomm ® Computer Vision Suite, the Qualcomm ® Hexagon DSP SDK, and AWS RoboMaker.
Highlights
On-device intelligence powered by Artificial Intelligence Engine (AIE)
The Qualcomm ® AI Engine includes the Qualcomm® Neural Processing SDK, which encompasses analysis, optimization, and debugging tools designed to allow developers and manufacturers to port trained deep learning networks on the various heterogeneous compute blocks offered by the platform.
Power efficient and cost-effective
Designed to support large industrial and enterprise robot's as well as small battery-operated robots with challenging power and thermal dissipation requirements.
Comprehensive development kit
Further reduce development time and complexity for intelligent high-performance robots using a feature packed development kit. The kit includes the robotics-focused development board, compliant with the 96Boards open hardware specification for supporting a broad range of mezzanine-board expansions and range of sensor support like time-of-flight (ToF), active stereo camera, multi-mic, IMU and proximity.
Flexible design options for commercialization
In addition to a feature packed development kit, the platform offers a range of solutions for commercialization from off-the-shelf System-on-Module (SoM) solutions to speed commercialization, to the flexibility for chip-on-board designs for cost-optimization at scale.
High resolution depth sensing
Powered by Qualcomm Spectra™ 280 ISP for high resolution and high accuracy depth sensing
Time-of-Flight (ToF) camera
Time-of-flight for gestures and hand tracking use cases
Tracking camera
Sensor module to do visual Simultaneous Localization and Mapping (vSLAM)
Advanced security
Qualcomm ®Secure Processing Unit, hardware root of trust, trusted execution environment, secure boot, camera security
Sensor Core
Support for multiple sensors and 3rd party algorithms through Sensor Software Framework
Connectivity
Wi-Fi integrated 802.11ac 2x2 with MU-MIMO and support for Bluetooth 5.0 and cellular mezzanines for LTE and CBRS
Products
Qualcomm® Robotics RB3 Platform
SDA845 8x Kryo 385 CPU, up to 2.8 GHz, 64GB UFS 2.1 on-board storage, 4GB LPDDR4
802.11 a/b/g/n/ac 2x2 with DBS, Qualcomm TrueWireless Bluetooth 5.0
Linux and Robot Operating System (ROS) , Neural Processing software development kit (SDK) for advanced on-device AI, Qualcomm Computer Vision Suite, Hexagon DSP SDK, and AWS RoboMaker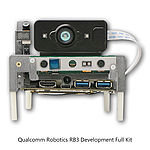 Thundercomm AI Kit
SDA845 8x Kryo 385 CPU, up to 2.8 GHz, 64GB UFS 2.1 on-board storage, 8GB LPDDR4
802.11 a/b/g/n/ac 2x2
Android 8, AI Framework & Algorithm SDK that includes optimized algorithm and demo application's source code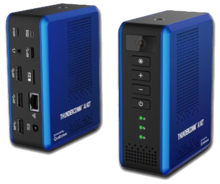 Thundercomm TurboX™ S605 SBC
Qualcomm® RedDragon™ QCS605, 8x Kryo™ 300 CPU,up to 2.5 GHz, eMMC 64GB, LPDDR4x 6GB
802.11a/b/g/n/ac 2×2, Bluetooth 5.0
Android 8.1, various SW platforms & dev kits like vision intelligence, security, smart home, smart display & smart camera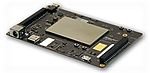 Qualcomm® Snapdragon 845
Kryo™ 64-bit 4x 2.8GHz (Gold) and 4x 1.8GHz (Silver), 64GB eMMC, 4GB LPDDR4
802.11 a/b/g/n/ac 2x2, Bluetooth 5,x GNSS
2x MIPI-DSI 4-lane, 60fps, Up to 3840*2400@60fps, Encode/Decode 4k@60
Yocto Linux (Rocko, Kernel 4.9), Ubuntu 16.04 and 18.04 (2H19, Kernel 4.9) and Android (8)