Whilst the past few years have seen an explosion in the number of applications using capacitive touch displays as the core of their user interface (UI), the fundamental technology employed has mostly remained the same: individual display and touch sensor components mounted together during a separate assembly process. Whilst this discrete approach can provide flexibility to adapt touch performance according to application requirements, it does increase the number of components in the optical stack, which in turn increases the thickness of the solution and has the potential to reduce optical performance. High volume consumer products, such as smartphones, have benefitted from thinner touch solutions for a number of years. In-cell sensors, where the touch sensing electronics are found within the LCD or OLED display itself, or on-cell sensors, where the sensor is found on the underside of the cover glass, have become widely adopted by Apple, Samsung and co.
This technology has not yet found its way to a wider market, because the display manufacturers typically experience significantly reduced yield, when production quantities are reduced. This means that for the average product, production losses normally make the cost of an in-cell or on-cell touch display more expensive than a display with discrete touch sensor of the same size. Atlantik Elektronik is working together with leading asian manufacturers to deliver standard on-cell touch displays, at a price point below conventional capacitive touch solutions. Our specialists have been producing on-cell touch for over 5 years, which provides the know-how and experience to produce these solutions efficiently and at good quality.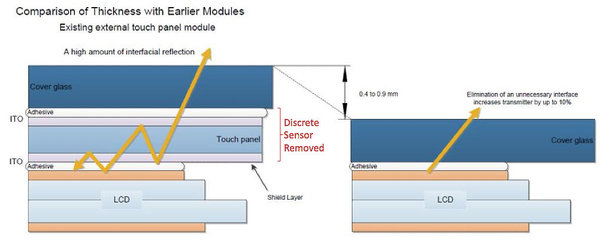 By eliminating the discrete sensor, up to 1mm of module thickness can be saved, meaning that a sleeker, thinner design is possible. Additionally, limiting the number of layers in the optical stack can lead to reduced reflection and improved sunlight performance, without increasing the backlight brightness. As handheld applications are often dependent upon batteries, this reduction in power consumption can have a positive effect upon battery lifetime and user experience.
To begin the following product line-up is available: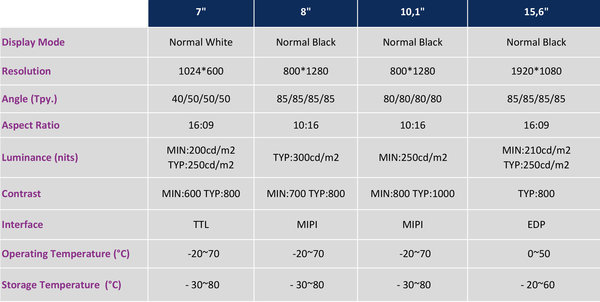 New options will be added over the coming months.