The key requirements of hand-held devices are mobility, connectivity, weight, battery life and functionality. The Atlantik Solutions for wearables and hand-held devices combine the advantages of different suppliers and technologies to offer the best standard and custom products to our customers.
Inside every gorgeous mobile device lies the heart of a dragon. Qualcomm® Snapdragon™ Mobile Platforms, processors, modems and chipsets are as smart as they are powerful, with new architectures for AI and immersion and redesigned to deliver high-performance experiences that won't unnecessarily drain your device.
Latest ePaper, OLED and On-Cell Display Technologies further reduce the weight and battery consumption of mobile devices.
For connectivity we offer all common wireless interfaces including LTE modems that are working in global bands and are certified with the major carriers all over the world.
Matching antennas are key to wireless devices and we combine it with a strong experiences and services in Baseband, RF and Antenna layout.
One of the key challenges when developing AI applications is integrating sensors that can sufficiently replicate human senses. The 3D ToF Camera Cube Eye, available from Atlantik Elektronik, provides a 3D image stream, which can be used in robotics and other AI systems to make a precise visual evaluation of the environment, taking up the role of the human eye. This technology can be used to accurately measure the size and volume of objects and their relative position in real time.
They key advantage of the Cube Eye solution is that the sensor, optics and electronics are available as a complete package. Interface via USB means that minimal hardware integration is required. Application software development is supported by SDKs and APIs available for both Windows and Linux environments, with Android coming soon. Cube Eye is the perfect 3D vision solution for Snapdragon AI development.
Benefits of our Qualcomm Snapdragon based solution
Atlantik helps customers to choose the best combination of the core components for wearables and hand-held devices and can take over any level of integration to guarantee a flawless development phase to guarantee new products to be on the market faster then the competition.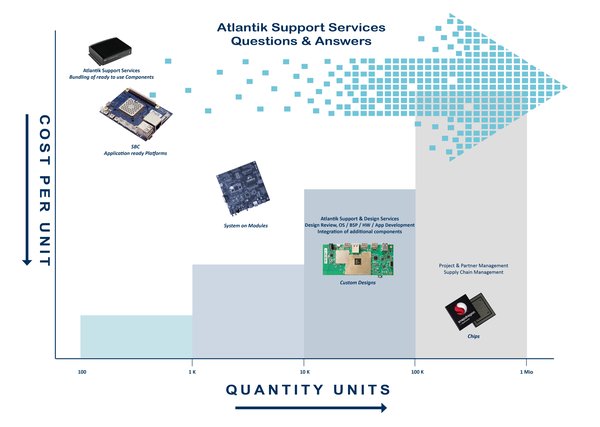 Professional Support
Professional testing and development support
Hard- and software development options including full custom designs (PCB / BSP development)
Certifications and certification services including RF and LTE carrier approvals
Supply Chain
Professional supply chain management
Long lifetimes up to 10years and future proof roadmaps
High-End Performance
Up to 8-cores multicore performance
Immersive graphics up to 3840*2400@60fps
Energy efficient platforms for exceptionally long battery life and miniaturized designs
Time and Access to latest Technologies
Display integration with embedded interface

OpenGL, OpenCL and Vulkan support in GPU
Up to 3 screens / dual display-split

Camera integration

Plug & Play over USB
Direct integration in the ISP over MIPI CSI for ultra-low latency with zero shutter lag

Connectivity

Integrated or external LTE options incl. LTE advanced
Latest Wi-Fi 802.11ac wave2 2x2 MIMO and BT5 already included

Battery charging
Advanced Audio Features

Integrated high-end codecs
APTX and aptX HD ultra-quality audio streaming
Echo arithmetic: echo cancellation/noise reduction
Software & SDKs
Wide range of Android and Linux based operating systems
Advances SW security frameworks
Optimizations allow audio, imaging, embedded vision, and heterogeneous computing acceleration on the Hexagon DSPs
SNPE SDK for artificial intelligence to run neural networks