Under the brand Atlantik 5G Haus, Atlantik Elektronik bundles the competencies of important partners on the topic of 5G. The partnership with Qualcomm is in the focus as well as services especially in the area of 5G modules & solutions, antenna designs, host CPUs, sensors and cameras (incl. ToF) and displays.
To implement this, there is a partnership with Thundercomm, which was jointly founded by Thunder Software Co., Ltd. and Qualcomm® Technologies, Inc. in 2016. Based on Qualcomm Snapdragon technology, Thundercomm is dedicated to IoT products such as smart cameras, robots, VR/AR devices, wearable devices, drones, PoS systems, medical devices, and industrial IoT to help partners and customers accelerate the process of IoT products, from prototype to mass production.
Until now, there was only one real option for integrating 5G into embedded designs - using 5G front-end modules. These are mounted on a PCB in combination with an application processor to provide connectivity. Typically, these modules are installed as LGA or M.2 plug-in variants. This has decisive disadvantages for many products. This combination requires additional space and is quite expensive to implement. In addition, the interaction of these components must be ensured and integrated into a functioning security concept.
For 4G/LTE, there are already many successful modules on the market that combine application processor, mobile radio and software. With the new 5G Smart Modules, based on the Qualcomm Snapdragon 480 and 690 chipsets, the first 5G all-in-one modules are now also available.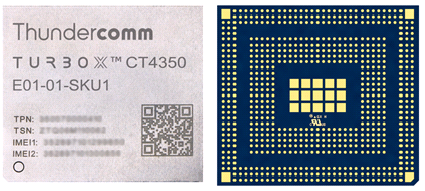 The world's first 5G Smart Module
The Thundercomm TurboX System On Modules integrate the Qualcomm® Snapdragon™ 480 5G or 690 5G Mobile Platform, which, in addition to the application processor, already include the Snapdragon X51 5G modem RF system that supports multiple 5G sub-6GHz spectrums and is also backward compatible with 4G/LTE networks. Also included is a Qualcomm® Adreno™ 619 GPU that supports video decoding/encoding with H.265. Rich peripheral interfaces GPIO/UART/I2C/I3C/SPI/USB 3.1 provide sufficient flexibility in embedded designs. Both modules also support multiple simultaneous cameras and displays.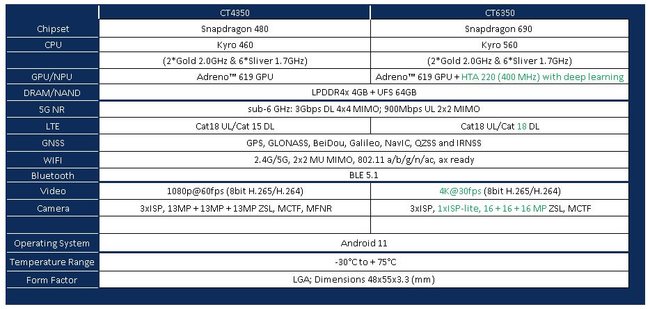 Atlantik will launch these modules for Thundercomm in Europe later this year. Pre-orders for the CT4350 (Snapdragon 480) development kit can already be placed with Atlantik and are planned for Q2/2021. The CT6350 (Snapdragon 690) DKs are planned for Q3/2021.
Designed for wireless devices
5G enables new experiences in upload and download speeds. The new modules are based on the Qualcomm® Snapdragon™ X51 5G modem RF system with support for sub-6GHz frequencies. Currently, the 3.6 GHz range is used for 5G in Germany. Telekom, Vodafone, Telefonica and 1&1 purchased the frequencies at auction in 2019. This frequency range is also referred to as C-band or band 78 and is supported by the modules in addition to bands n1, n3, n28, n41, n77 & n79. In addition, 5G modes SA and NSA with TDD, FDD, and Dynamic Spectrum Sharing (DSS) can be used. For indoor data transmission, Wi-Fi 6 (ready ) is also offered through the FastConnect 6200 system. This supports the Wi-Fi standards Wi-Fi 6-ready (802.11axready with WPA3 support), 802.11ac Wave 2, 802.11a/b/g, 802.11n in the 2.4GHz and 5GHz bands in the 2x2 MU-MIMO configuration.
Bluetooth 5.1 is also supported, including the outstanding Qualcomm Bluetooth Audio features Qualcomm TrueWireless™ Technology and aptX Adaptive.
Designed for performance and artificial intelligence
This platform is smarter, faster, and more impressive than its predecessors, delivering remarkable on-device AI and vivid entertainment experiences backed by efficient performance.
AI / edge computing requires the execution of large, computationally intensive tasks and complicated neural network models in a constrained environment. Constraints include space, battery, thermal conditions, or memory limitations.
These challenges are overcome by using a set of specialized processors, CPU, GPU, DSP, and NPU, which evolve with each generation. Using such a heterogeneous computer architecture to run sophisticated neural networks enables low-power operation within thermal limits by selecting the right type of processor for the right task. Software development to distribute tasks to these processors is handled by the Qualcomm Snapdragon Neural Processing Engine SDK.
Both modules support the powerful 5th generation Qualcomm® Artificial Intelligence (AI) engine required for execution. The CT6350 also features the Qualcomm® Hexagon™ Tensor Accelerator (HTA) for additional acceleration of AI applications. Together, they deliver smarter security, voice and camera applications - including intuitive social media filters and seamless switching between lenses.
This enables complex AI and deep learning workloads to be run at the Edge with maximum efficiency. With support for 5G connectivity speeds, this creates a framework for developing a wide range of next-generation applications.
Security
A networked world always struggles to remain a secure one. Security is one of the most important issues to consider when developing products and installing networks. The combination of AI, edge computing and the security features supports this, as on the one hand not all data has to be sent over the network and on the other hand special security mechanisms ensure that the data is encrypted and protected at the state of the art.
In addition to classic security features such as Wireless Connection Security (Cellular & Wi-Fi) or Secure Boot, FIPS certified Hardware Crypto Cores and a Trusted UI Framework, the platform supports the Qualcomm Mobile Security environment.
The Qualcomm® Mobile Security Suite, is designed to protect the entire device from mobile security threats. This is achieved through layered security, combining a hardware-level solution with software that provides robust biometric security. The latest mobile security components include Secure Camera, Secure Token and Qualcomm® Snapdragon™ Smart Protect.
Secure Camera is a hardware-based authentication capability for camera-based biometrics that protects image data from malware attacks. Camera Security is designed to isolate and securely store data received from the camera, in HW, to protect it from untrusted applications and processes. It is designed to ensure that only the right person can access the device's secure information, and helps provide a protected authentication method for payments and secure transactions.
Continuing the tradition of security-enabled solutions, Secure Token was designed to provide authentication for a security-focused, hardware-based validation process. This process can provide next-generation authentication for banking, payments and enterprises, with encryption for comprehensive confidentiality.
Traditional anti-malware software can only detect attacks that are known attackers. Qualcomm® Snapdragon™ Smart Protect, on the other hand, supports robust, real-time detection of previously unknown - "zero-day" malware threats. With a combination of malware detection based on machine learning and system-wide optimization, Malware Protection delivers superior efficiency and performance to outsmart even the toughest malware attacks.
Malware Protection is designed to deliver optimal performance by supporting malware detection and critical data processing on the device, not in the cloud. Performing malware detection on the device enables Snapdragon Smart Protect to quickly and efficiently detect and classify new security attacks. The software on the device can provide real-time intelligent threat detection so users know their devices, data and information are safe in our increasingly connected, complex world.
Atlantik Elektronik is working with Thundercomm to provide full support for designs around the new modules. This starts with support with development kits and FAE support for in-house development, continues with customization options and sub-projects, and ends with development and volume production of turnkey products.