Sunlight readable and low power consumption displays for smart wearables applications.
In addition to standard and customer-specific displays and touch components, we provide customized HMI system solutions along the entire value chain, from the combination and integration of various technologies from our partners to our end-to-end solutions including product certification, testing, production and supply chain management.

We are available to advise our customers on "make or buy" decisions.
We offer a wide variety of standard modules from 1.22" to 15.6" TFTs, as well as OLEDs also in round shape or other special sizes. Furthermore, we have special TFTs for wearables, automotive or industrial applications and custom segment e-papers with glass, flexible or PCB substrate. Our standard displays can be customized according to the product requirements.
---

Atlantik Display Customization Options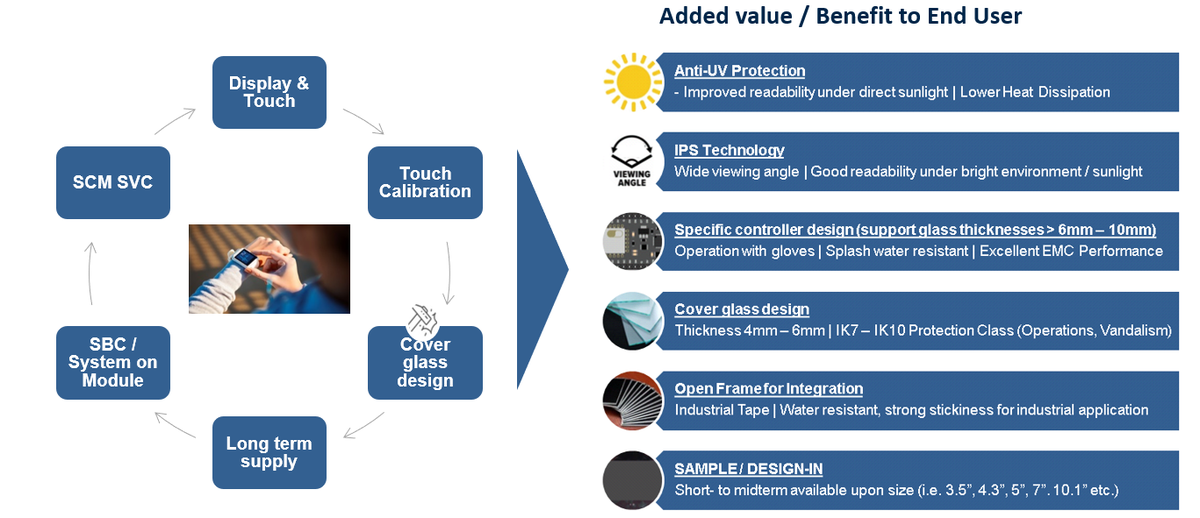 ---
"Green Displays"
Transflective, Semi-reflective (sunlight)

Our transflective displays (LCD) use an optical layer that reflects and transmits light. In bright lighting (e.g. daylight), the display behaves mainly like a reflective display, with the contrast remaining constant with the illumination level. However, in dim and dark ambient light, light from a backlight is transmitted through the transflective layer to illuminate the display.

When used in wearables, this enables good readability in both strong and dim ambient light or at night. In addition, power consumption is reduced at high brightness because sunlight can be used for illumination instead of the LEDs / backlight.
Some displays that transmit light and have low reflectivity are best in the dark and quite legible in bright sunlight.

FEATURES:
Rich colours (mono, red/ black & white, 8 colours/ 64 colours/ full colour)
Fast response time/ refresh rate
Wide temperature range
Very low power consumption
Clearly readable in sunlight