It supports BLE 5.0 with 2X data rate, 4X long range (LR), 8X advertising packet extension (AE), up to 8 antennas for Indoor Positioning, both Telink proprietary and SIG BLE Mesh, Zigbee, RF4CE, HomeKit, Thread, ANT and 2.4GHz proprietary. It provides 32-bit MCU, BLE/802.15.4 2.4GHz Radio, 64KB SRAM, 512KB Flash, 14bit ADC with PGA, AMIC, DMIC, stereo audio output, 6-channel PWM, one quadrature decoder (QDEC), and flexible GPIO interfaces, and other peripheral blocks required for IoT applications.
The TLSR8x5x family also includes multi-stage power management design allowing ultra low power operation and making it the ideal candidate for wearable and power constraint applications. All optional features of BT 5.0, ZigBee 3.0 certification, Thread v1.1 and HomeKit authentication are already embedded with no additional external devices required.
The new 825x family is a world beater in the LP RF Connectivity.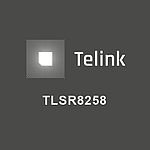 Features:
Standards Supported
BLE 5.0 (Long range, 2Mbps, AE), BT5.1 compatible (angled based positioning with up to 8x antennas)
BLE Mesh, 6LoWPAN/Thread, 802.15.4 , Zigbee 3.0, RF4CE, HomeKit
ANT/ANT+
Interfaces
I/O: SPI, USB 2.0, I2C, UART, I2S
Up to 32 GPIOs
Voice In: Digital and Analog Mic, Dual-Mic
Audio Out: SDM (Mono), Stereo
PWM: Up to 6-channel
Performance
Up to -97dBm @ BLE 1Mbps;
Up to -100dBm @ 802.15.4
TX whole chip 4.8mA @0dBm, 17mA@10dBm
RX whole chip 5.3mA
Sleep with SRAM: ~1uA
Sleep with external wakeup: 0.4uA
Max RF power: 10dBm
512KB Flash with Flash encryption
64K SRAM (8K + 8K + 16K Retention)
Unique Chip ID
32k crystal optional
Embedded RF match circuit
Minimal external components
Embedded LDO, DC-DC
ADC for battery monitoring
1.9 ~ 3.6V
14bit ADC with PGA
Temperature sensor
IR modulators with FIFO control
Quadrature decoder
Low power comparator
SIM Card
Native 7816 interface support
Package
Applications:
QFN32, QFN48
Smartphone and tablet accessories
Wearable devices
Building automation
Consumer electronics
RF remote control
Wireless toys
Smart grid
Industrial control
Sports and fitness tracking
Smart lighting, smart home devices
Intelligent logistics, transportation, city
Health care