The Smart Audio Platform has been developed for for a new age of voice control, Superior connectivity, almost everywhere and truly immersive listening experiences. It offers a set of System on Chips and System on Modules that have been built from the ground up for smarter Audio.
Designed to include the building blocks for developing a smart speaker in a single, flexible platform
Advanced QCS400 smart audio SoCs and SoMs for high-performance and low-power
Integrated far-field multi-keyword voice pick up technologies with echo cancellation and beamforming
Support for leading cloud-based voice platforms
Support for high resolution audio, with aptX audio codecs, DDFA and powerful audio post-processing
Pre-integrated low-latency in-room and multi-room networked audio
Advanced wireless connectivity options, with Bluetooth, Wi-Fi and Zigbee coexistence solutions
Comprehensive development kit available with example design and supporting documentation

The Qualcomm Smart Audio 400 Platform is designed to include a powerful combination of superior sound quality, AI and connectivity to help deliver cutting-edge power management, advanced voice UI and great audio experiences – and it supports cloud-based smart assistant services. This unique and flexible end-to-end smart speaker platform is built around the Qualcomm® QCS400 SoC series with onboard Qualcomm® Artificial Intelligence (AI) Engine, that is dedicated specifically for low-power, high-performance smart audio applications. Our Smart Audio 400 Platform supports Qualcomm® DDFA™ amplifier technology, Qualcomm® aptX™ Adaptive audio, up-to 12-channel audio processing, as well as scalable connectivity solutions for lowlatency multi-channel audio streaming throughout the home. Enhanced voice assistance capabilities include low-power always-on voice activation, simultaneous multi-keyword detection, multi-channel echo cancellation and local automatic speech recognition, as well as support for voice services from major providers. To further streamline and simplify smart speaker development, the Qualcomm Smart Audio 400 Platform is available in the form of a development kit that includes the platform's rich features, along with external speaker casing, bi-amped, two-way speakers, and a six-microphone array board as well as multiple other components in a reference design to help developers more quickly scope and design their product.
Software Features: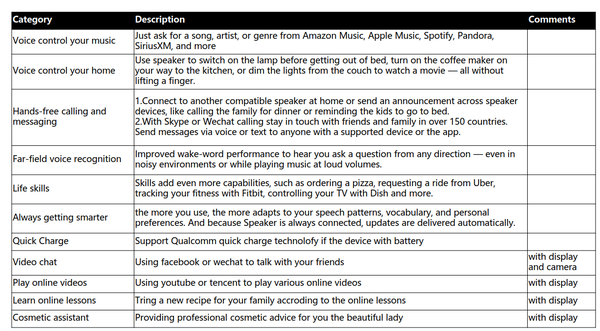 Support smarter and more robust Voice UI experience, as well as machine-learning-based local Automatic Speech Recognition (ASR) pre-loaded on the Qualcomm Smart Audio 400 Platform.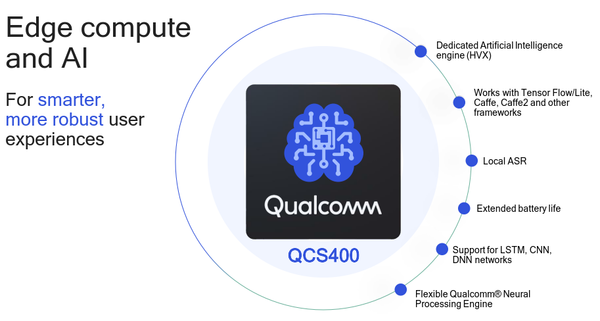 Products