The Snapdragon 865 provides a feature-rich Android or Linux development platform that is designed to provide an ideal starting point for IoT products that require high computing power, 5G connection, advanced camera capability, and superior graphics performance. It is available at Atlantik in all integration levels from System on Chip, over System on Modules and Single Board Computer to ready-to-deploy Edge Computing devices.
It can be used for various artificial intelligence based POS solutions, including Smart Payment, Digital Signage and Self Checkout scenarios.
For example Smart POS scenarios that are covered by our technology, the solutions are used in:
…a small store. After the cashier enters the amount, the customer makes face payment, which is helpful for opening members and managing members.
… in supermarkets or unmanned supermarkets, customers can enter the products they buy and pay for them by themselves, which can improve the efficiency of cash collection
… in restaurants or supermarkets, when in restaurants, customers can order and checkout by themselves, and when used in supermarkets, they can pay for the products by themselves, which can improve the efficiency of customer checkout.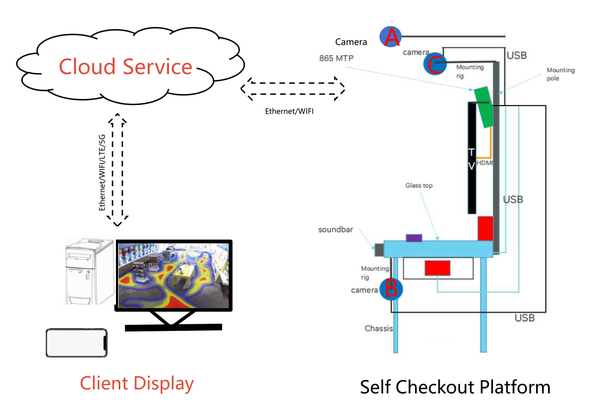 Key Features:
Face Recognition
Customer tracking & heat map generation
Object recognition
Waiting line analysis
Components for self checkout solution:
Snapragron 865 based computer for processing and connectivity
Camera A For people location and tracking
Camera B For Item detection and Loss prevention
Camera C For face profiling
Sound Bar high-quality audio output
Atlantik can provide full design in support for this kind of applications such as algorithm optimization on edge devices and has proficiency in inference engines, such as SNPE, TensorFlow Lite, TVM. This also includes a set of example algorithms that can be adapted to specific use cases. The technical solution includes:
Customer Analysis based on AI
Support for multiple AI algorithms like facial recognition, emotion detection, age detection, gender detection, face anti-spoofing, object detection
World leading Face detection and recognition technology: Algorithm accuracy stands in the same line with world top vendors
Millisecond detection speed: full angle face detection, low light support and Anti-backlight tuning
Embedded device solution / edge computing: low power and with both offline and online support
Support skeleton detection, gesture recognition and AR technology for interactivity
Support for multiple platforms like Android and Linux
Support for application development with Android SDK and can be quickly integrated with 3rd party advertisement management system
Snapdragon C865 Development Kit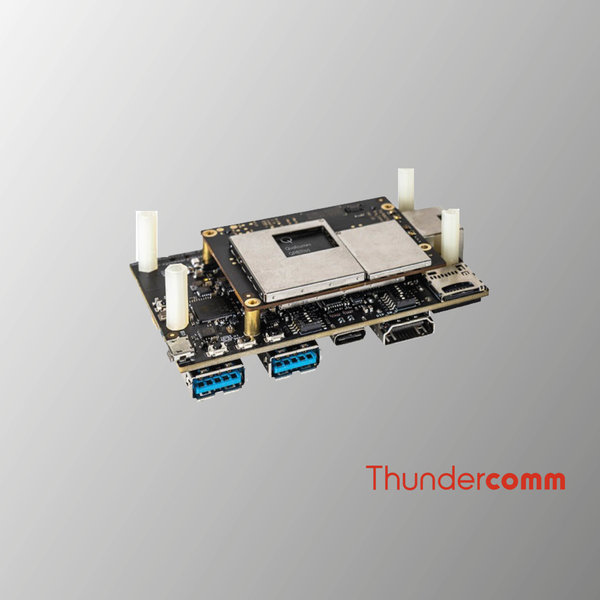 The Snapdragon C865 development board (can be used as single board computer as well) delivers up to 15TOPS in AI performance by the powerful heterogeneous computing capabilities using the octa core Qualcomm® Kryo™ 585 CPU, powerful Qualcomm® Adreno™ 650 GPU, multiple DSPs (compute, audio, and sensor) and ISPs.
Advanced connectivity
Qualcomm® FastConnect™ 6800 Subsystem with Wi-Fi 6 (802.11ax), 802.11ac Wave 2, 802.11a/b/g/n.
Support for 5G including 5G mmWave and sub-6 GHz based of Qualcomm® Snapdragon™ X55 5G Modem-RF System via a companion module. Using 5G technology mission critical and wide scale deployments with low end-to-end latency is possible.
Advance imaging capability
Gigapixel speed ISP powered by top of the line Qualcomm® Spectra™ 480 ISP with ability to process 2 Gigapixels per second. This Gigapixel speed delivers new camera features including 8K video recording, 7 camera concurrency, capture 200-megapixel photos, and simultaneously capture 4K HDR video and 64 MP (with zero shutter lag) photos.
Advanced security
Qualcomm® Secure Processing Unit (SPU) offers vault-like security providing Secure Boot, Hardware root of trust , cryptographic accelerators, Qualcomm® Trusted Execution Environment and camera security. Qualcomm® Crypto Engine Core is FIPS 140-2 certified.
In addition to a feature packed development kit, the platform offers a range of solutions for commercialization from off-the-shelf System-on-Module (SoM) solutions to speed commercialization, to the flexibility for chip-on-board designs for cost-optimization at scale.
The Snapdragon C865 Development Kit is now available in our webshop.
EB5 Edge AI Box
It is also available in a ready-to-use boxed design as EB5 Edge AI Box that features powerful AI and video decode capabilities. It supports device-edge-cloud synergy, remote algorithm and application deployment, FOTA and DM. IT can be widely used in complex environments like building, medical, retail, manufacture, transport and city, etc.
Industrial-grade hardware: Industrial grade with fanless design, can be used in a wide operating temperature from -10℃ to ~60℃
Flexible cloud connectivity: Can leverage both public cloud like AWS, Microsoft Azure and private cloud, with the modular design of the middleware can be configured per specific scenarios
Powerful chipset: Support 24 channels FHD video decode, with 15TOPS @INT8 AI performance
Simplified usage: Compact design and low power consumption, support remote deployment, upgrade and device management
Intelligent ware: Provide built-in TurboX Edge OS, including device-edge-cloud synergy ware TurboX Device and TurboX Cloud,multimedia processing and AI analysis ware TurboX Stream
The EB5 Edge AI Box is available in our webshop.