The Bluetooth Special Interest Group (SIG) has announced new information for the upcoming Bluetooth 5.1 standard. Bluetooth 5.1 will be able to do much more than just connect devices to each other and exchange smaller amounts of data between them.
Because in Bluetooth 5.1, a function for determine the direction is added: Direction Finding. In combination with real-time locating systems (RTLS) and/or indoor positioning systems (IPS), Bluetooth 5.1 will enable very accurate tracking objects and thus significantly improved indoor navigation. And that without the well-known Bluetooth beacons.
According to SIG, Bluetooth 5.1 allows the exact direction of a Bluetooth device to be recognized and its position to a few centimeters determined. This means that an indoor navigation solution will in future not only be able to show the user how close the searched object is, but also in which direction the user must look. This makes perfect navigation solutions possible for museums, exhibitions, shopping malls or event buildings, for example.
Direction finding using the arrival angle method: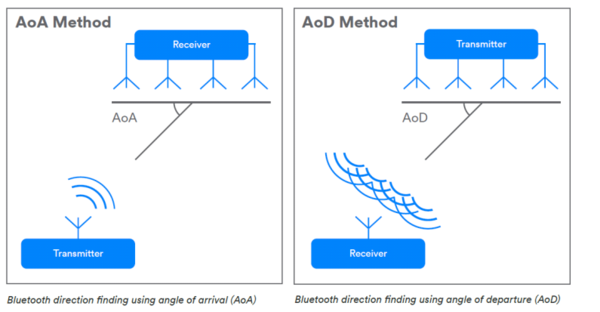 Bluetooth Low Energy module BTM091
Applications:
Museums
Exhibitions
Malls
Event buildings
Logistics